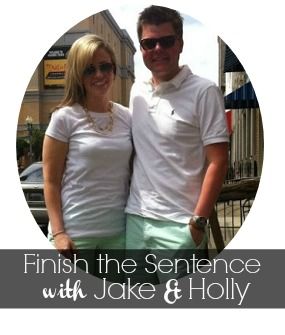 It's LINKUP TIME with my favorite blogger in the whole wide world,
Holly
. Well, besides
Kara
who I think is a figment of my imagination these days because I have not seen ANY of my college friends in months...But that is about to change. I am demanding that I slow down with shirt shit. It's consumed my life. But for now, let us forget that and have some FUN!
My happy place...
is anywhere that serves Miller Lite and something fried I can dip ranch into; near water with my friends; where I don't have to answer my phone or texts or EMAIL; and has a good playlist that I am not responsible for.
Whatever happened to...
predictability? The milk man, the paper boy, evening T.V...You miss your old familiar friends, but waiting just around the bend.....
I miss sitcoms having a theme song...
So what if I....
watch Bravo..some really good shows come on that channel--I swear it's like crack. If I get started on a marathon, hang it up. I am posted up on my couch ALL. DAY. LONG. (I don't watch any of the real housewives...my current obsession--Below Deck.)
E! needs a reality show about...
me and my business partner, Mrs. Shirley. She is in her 70's and I am 28. We don't see eye to eye. She takes iPhone classes, still has 3 "perfectly good VHS players" so why should she discard them, uses a Rolodex, and loves a land line. It's quite comical. But she is the yin to my yang...
My go-to fast food meal is...
cheese sticks and a Diet Coke from Sonic as an appetizer, and then Nachos Bell Grande AND some fried chicken from Kentucky Fried Taco--it's a combo restaurant.
You might not know that I...
wear khakis, and work at State Farm.
The hottest quarterback in the NFL is...
does Carrie Underwood count? She made me literally drool on Sunday night when she did the opening number.
It's like she's not even human....how can someone be so perfect??
If I could....
meet Eddie Vedder, I would ask what the hell he is singing in Yellow Ledbetter.
Twerking is....
nothing new. My trashy friends have been doing that for years...
it just wasn't then a word in the dictionary.
I think it's super gross when...
sour cream gets that gross juice on top.
Someone needs to tell Miley Cyrus....
that she is not Gwen Steffani and that that pussy poppin' she does is filthy. What happened to Hannah Montana?