I have learned a few things lately...they are of zero importance, but here they are anyway....
[one] Adam Levine is the luckiest man in the world. I mean, it's kind of unfair to us commoners. He is named Sexiest Man Alive [after
Hubby Jack
and I were told we weren't chosen]; he can sing; my Mom loves him--and that is huge, as she typically only falls for the Garths and Georges of the Music world--oh, and Michael Bolton; and he is engaged to this:
[two] this brings me to my second point--the VS Fashion Show last night. I have come to conclude that most females feel one of two ways about watching the show. First, it sparks a fire to make them shape up because they see that walking down the runway [hell, I think it does this to some guys too--I know I chose not to have my midnight snack after watching], or second--they change the channel to National Finals Rodeo. Nothing wrong with that--my mom is a cowgirl and let me tell you--there are some sexy cowgirls that would put Behati to shame. My conclusion--that's why we tune in because those girls are to be coveted, but be happy with yourself--at least you don't have to go to be hungry.
--and Taylor Swift was actually enjoyable to watch. She does well with Fall Out Boy..
[three] When someone expresses feelings about a
certain someone
, many of my friends that feel like I feel about that specific topic come to my rescue and send me texts like these, and I love them!
[four] I need to learn how to sew. See, I bought this new suit from my favorite site [Bonobos]. I love it. A big factor in my decision to put a halt to online shopping, nonetheless. But, it came in and I wasn't thinking about alterations. Since my legs are freakishly short and my torso is equally as odd--being really long, I needed the pants to be hemmed. No place could do it yesterday and have it ready to pick up tomorrow--I know, I mean slackers...So my ever so gracious co-worker [who happens to be the Home Economics teacher] volunteered to alter them for me. Lifesaver. I think I need to learn how to sew--it can't be that hard.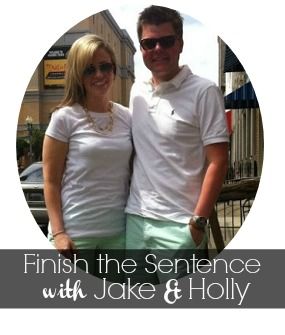 [five] My blog girlfriend [
Holly
] and I decided it was past time for a LINKUP! [Read some of the others
HERE
,
HERE
, and
HERE]
. We are in the Holiday spirit and hope to put you in it too! Here are the questions to prepare for TOMORROW's post. As per usual, the best/funniest gets a prize! Thanks for your participation!!
1. My favorite Christmas was....
2. The worst Christmas I had...
3. That one gift that made me scratch my head and say, "Hmmmm" was...
4. One year I....
5. I think the worst gift to give is....
6. At Christmastime I typically....
7. Typically, family Christmas....
8. If I could change one thing about the Holiday season....
9. It is so hard to buy for....
10. My favorite Christmas tradition is...
until next time....